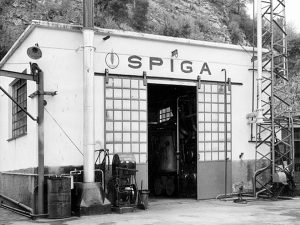 Spiga Nord S.p.A., natural glycerine since 1957
SPIGA NORD was established in 1957, in Genoa (Italy), a city with an ancient tradition for manufacturing materials based on natural oils and fats (soaps) and their by-products, thanks to the presence of such prosperous related activities, Spiga Nord grew up specializing in the production of NATURAL REFINED GLYCERINE.
In 1974 SPIGA NORD moved to Carasco, located 35 km from Genoa and improved its activity by realizing a new and modern plant in Chiavari's interland.
Spiga Nord continued to improve the performance of its installations in order to guarantee a high quality refined glycerol suitable for the most demanding markets, such as COSMETIC, FOOD AND PHARMACEUTICAL.
In 1997 Spiga Nord was one of the first italian companies who decided to certify its quality System according to the ISO 9001 standards.
From the second half of 2007, SPIGA NORD started the production of PURE VEGETABLE POLYGLYCEROLS, exclusively obtained by polycondensation of Kosher and Halal grade and GMO-free Natural Refined Glycerine. Spiga Nord POLYGLYCEROLS are suitable for FOOD and COSMETIC EMULSIFIER production and allow the manufacture of esters in line with Regulation 231/2012 specifications (E475 POLYGLYCEROL ESTERS OF FATTY ACIDS, E476 POLYGLYCEROL POLYRICINOLEATE).
Through experience ripened by 50 years of activity, SPIGA's products are now marketed in many European and Overseas countries and are notable for their very high quality standards.
Indeed, continuous attention has been devoted to the technological development of the plants, to the evolution of laboratory equipments required for increasingly precise quality control, and to the study of all aspects connected to the improvement of the product, with respect to customer requirements.