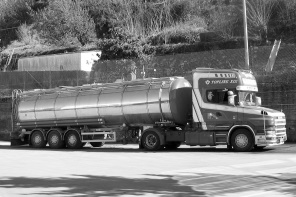 Glycerol and polyglycerols packaging
The aim of SPIGA NORD is to manufacture pure vegetable GMO free refined Glycerine and Polyglycerine characterized by high quality standards in order to satisfy the quality and logistic requirements of pharmaceutical, food and cosmetic customers all over the world. Spiga is able to deliver its finished products in tankers for product delivery "in bulk" or in container of variable capacity suitable for specific volume requirements. In both cases Spiga Nord pays great attention to the primary packaging used and to the condition applied for its filling: all selected packagings complies with the requirements of Regulation 1935/2004/CE on "Materials and articles intended to come into contact with food" and Regulation EU 10/2011 on "Plastic materials and articles intended to come into contact with food" and moreover packaging suppliers are properly selected, approved and evaluated according to internal procedures.
In case of bulk delivery a severe test is performed in order to check the suitability of the tankers prior to its loading with Spiga high quality products. For what concerns the packed product, Spiga Nord has created in 2005 a filling station, separated from the manufacturing facility, dedicated to the filling of finished product under laminar flow and equipped with a semi-automatic system for the filling of containers.